Slippers
A simple way to decorate a pair of ready-made slippers for yourself or as a gift: sew some (hand made or store bought) crochetted figures onto them. Easy to do and it gives the slippers a unique personal touch.
Geplaatst op 09-12-2013.
Other Crafty Adventures Bekijk de 0 reacties! / Check out the 0 comments!
Geef je reactie op dit bericht! / Comment on this post!
---
In November...
The month started out with a night out in Leiden. New faces and nice familiar faces to catch up with/get to know better. I had a good time getting high on hot chocolate and oj. I don't usually spend nights hanging out at bars, I liked it but man, why do they need to play music that loud when people come there to chat with each other over drinks? No voice left afterwards.

I learned for my exam on Veranderende Grenzen 1 (Changing borders 1) that I had had to postpone in October. I was a bit bummed to only get a 7 (out of 10) as a result, but that does mean that I now have my propedeutics! I wish my health would have allowed me to get them at the age of 19 or 20 instead of 31, but for many years I didn't even dare to hope I would ever get to study for my bachelors degree, so it's another step in the proces of my big dream coming true!
I spent several days in Leiden, taking care of my furry friend Poes, while her human was checking out paintings by Jan van Eyck, amongst other things, in Berlin. (can you tell I was slightly jealous? ;-) ). She likes to prey on the papers coming from the printer and comes running whenever you use it.
Since I had had to postpone my exam on Veranderende Grenzen 1, I would have had only two weeks afterwards to prepare for my exam on antiquity's culture. I decided to prevent myself from stressing out and changed my schedule. I'm now working on Stedenbouw (city building) and Kabinetten, Galerijen and Musea (on museums and their forebarers).
I attended the Salon de museologie, on museum awards.
I had a social sunday in Leiden: meeting up for drinks with Francien, seeing 'Museum Hours' (part of the Leids Film Festival) with Bram at Kijkhuis cinema, and then cooking and eating Indian dinner with Bram and J.. J. had brought chocolate icecream, oh my!
Roeland and I attended an evening of the Friends of Rijksmuseum Volkenkunde, the ethnographic museum in Leiden. The curator of the Oceania-department spoke about the new permanent presentation on Oceania. After the break, we all went to the exhibition room for a quick tour.
I attended an evening of my student association. Someone gave an interesting lecture on Museum the Lakenhal in Leiden during the early 20th century.
After working in the Meermanno depot, located in the cold cellars of the Royal Library, for a couple of hours on a wednesday afternoon, I met up with Bram. We went to restaurant Deluca, where our party grew to a number of five. After a nice dinner we went to see 'The World's End' at Spui cinema. British humour, which is nice when you're in the right mood and have the right expectations. I quite enjoyed myself.
Maarten and I spent two days in Eindhoven for the 8th edition of GLOW. Not the most spectacular edition we've seen, but we had a good time and it wasn't too cold.
I have been working with my fellow editor E. since March 2012. For a very long time, she was just a voice coming from my computer during meetings, and someone who sent me e-mails and worked in documents in our shared dropbox. It wasn't untill October this year that she added a photo to her Skype profile. I was still getting used to the fact that she actually had a face, and now we finally got to meet! She turned out to be a real, 3D person! We had actually made plans to meet last year, but Aafjes health got in the way back than. We spent a nice couple of hours chatting in a grand café.
Unfortunately our new editor R. had to give up her position with the magazine, we're sorry to see her go!
Good talks and laughs during the monthly get-together on a sunday afternoon in Leiden.
I attended a seminar on the 'new' Rijksmuseum, organized by the ladies of the OU Erfgoedplatform (the heritage division of my faculty).
Maarten and I visited Zwolle. We saw Museum de Fundatie, with it's newly added top floors, browsed books in Waanders in de Broeren (a bookstore in an old church) and visited Stedelijk Museum Zwolle (city museum).
Being proper Whovians, Maarten and I had been looking forward to Doctor Who's 50th anniversary episode for months. We made ourselves cups of Eraclea hot chocolate and enjoyed an adventure with no less than three Doctors.
Roeland and I met up with M. to visit the Tropenmuseum. We saw the exhibitions 'Escher and Islamic Art' and 'Black and White' and part of the permanent collection. afterwards the three of us met up with B. for drinks.
Sinterklaas preparations!
Another wednesday afternoon at the Meermanno depot. R. treated us to hot chocolate during our break. I met up with friends (and someone new) for dinner at The Old Pal in Zoetermeer. After dinner we were joined by 10 others for drinks, it was a nice evening!
My father in law ended his career of working for a firm providing life insurance to complicated cases. There was a farewell lunch with his co-workers, to which us kids (in law) were invited. The venue was a fish restaurant with elaborate things on the menu. Usually not my type of venue, but they took very good care of me and my food intolerances. T.'s collegues made a nice gathering out of it with speeches and presents.
I attended a study day on expressionism, organized by one of my teachers. It was at the Van Abbe Museum, where we got to listen to interesting lectures and got a tour of the new permanent presentation.
Geplaatst op 06-12-2013.
Life Bekijk de 0 reacties! / Check out the 0 comments!
Geef je reactie op dit bericht! / Comment on this post!
---
Dear Sinterklaas,
I've been very good this year: I've worked and studied hard. You probably knew that already, but I wanted to emphasize it before you saw my wishlist. It's okay if you don't give me all of these for your birthday, you can save a thing or two for my birthday next month.

Romo the smartphone robot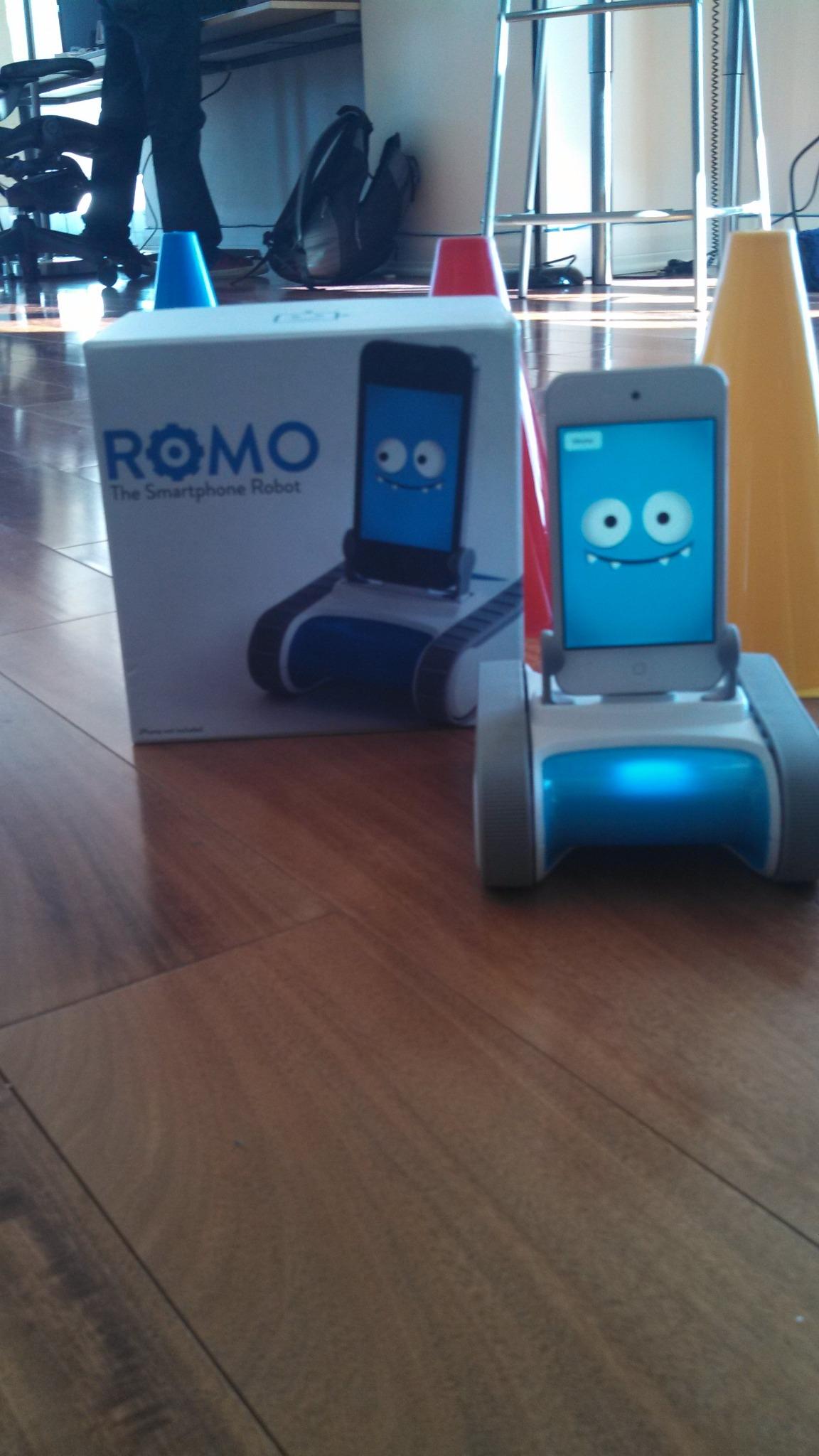 Because he's just cute. See here for more information.
And oh, yeah, I don't have a smartphone yet, so I'd need that too, thank you.
A trip to Berlin. And Vienna. And actually, every place where they have a Jan van Eyck, please!
An I-pod with docking station
My portable cd-player broke last year, so now I can only listen to music in the living room, or on my laptop which doesn't make it sound to good and often freezes when I play something on youtube. I do have an MP3-player, but I don't like having earphones in and it doesn't have a menu so I can't properly navigate on it. And could you please have Piet rip all the cd's I own and put them on there?
My very own dinosaur
When Maarten and I were in Zwolle recently, I saw this cute triceratops in a store window. He moves his head and even makes sounds! Übercute!
An ATC-sized rectangle punch
Only the thing is, they don't exist. There's one (or rather, two: with and without rounded corners) 3x4" punch now. But I don't work with the original project life since I prefer working in an A4-format in a 4-ring binder, so I can use all sorts of page protectors and use my 4-hole punch on everything flat and put it in my binder. There is no A4 page protector with 3x4" slots. One of my standard page protectors is the one with ATC-sized pockets. I spend and hour each month measuring out and cutting and erasing to make journallingcards. The right punch would save me at least 50 minutes of that, that I could then use on actual scrapbooking. I rarely use 3x4", only once in a while to fill up half a 6x4 pocket.
There is a sizzix die for ATC-sized rectangles. I suggested this to them years ago and probably wasn't the only one who did so, and now that they finally have one, they've made it non compatible with the original sizzix machine, just my luck...
I bet you could make a good profit by bringing a punch like that on the market, I'm sure I'm not the only one dying to get their hands on such a punch!
A long purple coat
You only spent part of fall in The Netherlands each year. Before winter kicks in, you head for Madrid. It's cold here in winter. Now I have good shoes, an owl-hat, gloves, poncho's and scarfs, and I have it on good authority that Wilma-Piet has been knitting away for your birthday. But there is this purple coat that I'm in love with. Only then, in a fabric that is just as pretty and warm but can be washed, so I don't have to be scared of rain or public transport seats. I've been in love with this coat for years, but the combination of the price and the non-washability puts me off. I suppose it's great for people who travel in their own car and don't regularly lose umbrella's within hours.
More coats, while we're at it:
And a dress would be nice
A great photo printer which magically refills cartridges and photopaper drawers
So I can print my photo's at home and sort of keep up with my project life, in stead of having to wait for months untill a promotion makes having photo's printed affordable.
I'll sing you a song before I go to sleep tonight, and I'll make sure to put a nice big carrot in my shoe for your horse. My very big shoe, as you might remember from past years, that will hold big presents. Thank you in advance!
Love,
Thinkie
Geplaatst op 05-12-2013.
Bekijk de 0 reacties! / Check out the 0 comments!
Geef je reactie op dit bericht! / Comment on this post!
---
Cupcake in 2010
My two cupcake mascots in action in 2010:

Cupcake playing 'pet and caretaker' with my cousin

Hanging out with a cool friend.
Geplaatst op 24-11-2013.
Cupcake Mascots Bekijk de 1 reacties! / Check out the 1 comments!
Geef je reactie op dit bericht! / Comment on this post!
---
In October...
October didn't start well for me: on its first day I woke up with a cold, that kept me in bed for quite a while. I missed out on the fall-meeting of my patient organization, on meeting a friend for drinks and on the monthly film night I usually attend. I drank fruitshakes and Sourcy vitamin water mango-guave. Wilma got me grocaries, Roeland came to visit, I got lots of well-wishes on facebook and in e-mails, and Maarten cooked dinner a couple of times. I got to catch up on blogging and selecting photo's to print for my albums. I tried to study, but eventualy had to decide to delay my exam on Veranderende Grenzen 1 (Changing borders 1). I did start reading my book for 'Cultuurgeschiedenis van de oudheid' (Cultural history of Antiquity).
Just like the last two years, Mike sent me a diary he had printed, with my name on the cover. It's not just nice because it's a personal present someone made me, it's also a very practical diary, in the right size for me and with enough writing space per day. And I like black.
When I felt better, Maarten and I borrowed Wilma's car and visited Kasteel Amerongen. Afterwards, we drove further for a visit to Y.. I took photo's of her and her chickens, to go with an interview in Lees ME (our patient magazine). We had dinner at Ikea on the way home. Swedisch meatballs, baby, yeah! :-)

Ikea now offers a responsible choise of veggies. In their cuddly toys department, that is. Meet my new friend Broccoli...

Not sure if it's wise to store the carrots right next to the bunnies...
I spent an afternoon walking and talking trough Amersfoort and having drinks in café's with L.. Afterwards I met up with Maarten. We visited Martijn's birthday party.
I spent two days in the auditorium of the Rijksmuseum for the Codart 15th anniversary conference, listening to lectures on collecting art (mostly from a museum point-of-view, but private collectors were also part of the program).
Roeland and I attended a talk by the director of Museum Volkenkunde, about the future of the museum.

Roeland's cat Poes likes to sit in a kitchen cabinet. Preferably with the door closed.
With Maarten, I attended a lecture on Polish World Heritage sites.
Maarten and I spent 8 days travelling the eastern half of Switserland by train (and boat, for a bit, and cable car, for several bits). It was epic! What a beautiful country!
On a very stormy day (people were warned not to leave the house unless absolutely nessecary) Meermanno's yearly company outing took place in Dordrecht. It was quite an adventure to even get there, thanks to the storm, and we had to change our plans, but in the end, we had a great day.
Roeland and I attended a nice livingroom concert. Artists: Daniel Bachman and Riley Walker. Examples of their music:
Maartje, an ME patient, decided to conduct a little digital road trip from her bed. She invited a lot of (facebook) friends to come along by editing portraits of them. Seems like Rob and I were going north, dressed op nice and warm in our hats!
We worked hard on bringing everything together for the next issue of Lees ME, which will come out in december. Felt like I was starting to get the hang of this editor-in-chief thing. There's always more to learn, but it went smoother than last time. And a new editor joined what is now our team of three, yay! :-)
I have been going trough my books lately, selecting which can go. I had made good progress, maybe even two meters of shelf-space. And then my collegue R. started going trough hís books. His books on art history, actually. Which he knew are of interest to me. And he's a nice guy. So. Bye, bye, progress on making space, hello books on art!
Geplaatst op 22-11-2013.
Life Bekijk de 0 reacties! / Check out the 0 comments!
Geef je reactie op dit bericht! / Comment on this post!
---
Ethnological and Economical: on Rijksmuseum Volkenkunde and making the most of it
On 14 October 2013 I attended and evening organized by the association of friends of the National Museum of Ethnology (Vriendenvereniging van Rijksmuseum Volkenkunde). Speaker was Stijn Schoonderwoerd, director of the museum. He spoke of the career-route that lead to his current position. He's an economist with an interest in culture. This can be clearly noticed in his ideas on the running of his museum and the museum world in general.

Schoonderwoerd described a trip to Japan, where the museum recently had a travelling exhibition. Appearently, in Japan, it's the newspapers that organize travelling exhibitions. Over there, they think highly of Rijksmuseum Volkenkunde, which has a large collection of Japanese prints. A few years ago in The Netherlands however, the ministry of culture put the museum on a list of museums that could be closed. Just like the Afrika Museum. Earlier this year the ministry of foreign affairs decided to cut fundings on KIT, the institute for the tropics that runs the very popular Tropenmuseum (museum on the tropics) in Amsterdam. There's a new plan to save all three museums; Schoonderwoerd reveiled that these ethnological museums will be merging into one organization, holding on to three visitor locations with their own identities.

Definition matters
Schoonderwoerd sees the museum as a creative work environment. In the cultural field, things are being created; museums create exhibitions. Museums compete with other ways of spending leasure time. He thinks this an interesting challenge. This competition is only getting stronger, since the leasure-market is growing. The number of museum visitors is growing too. But how long will that developement last?
Someone in the audience mentioned the research task museums have. According to Schoonderwoerd, only four museums in The Netherlands, amongst which the Volkenkundig, are still obliged and get funding to do research on their collections. Which makes me wonder what this means in relation to the ICOM definition of a museum, of which research is a part.

Relevance
Schoonderwoerd thinks 'marktwerking' (letting the public decide on what they're willing to pay for something on offer and therefor whether or not these goods or services will be continued to be offered or will be taken off the market, vs. cultural institutes like museums being mostly dependant on government funding) in the cultural world is not such a bad thing. Until recently, the Volkenkundig got most of their income from government funding. It was a lot of money, when you compare it to the modest amount of visitors at that time. He thinks it good that this is reviewed critically.
The Volkenkundig has a good collection and international renown. It's not very well known in The Netherlands, however. The museum's research task isn't well known either. This was holding back sponsors.
They also didn't have a proper connection with groups in society. This limits social relevance. It's a museum for ethnicity, but pretty much everyone in the room was white. Roeland and I stood out for our young age, as 30-somethings. This illustrates the commonly noticable situation of active Dutch-born seniors being a very important group of consumers of culture. Depending on the subject of a museum, it can be hard to be relevant to people from several different backgrounds, and younger people don't have as much time to spend on culture as pensioners do.
Last but not least, one may wonder whether ethnological museums are still relevant in today's world. Asking that question might prompt people to question the right of existence of such museums. I think that they still are relevant; even though people travel a lot more now than they did when ethnological museums came to be, not everyone can afford to do so. The people that can, usually don't get to see every nook and cranny of the world. An ethnological museum can fill in the blank spots on their map, and, as was mentioned during the evening, introduce travellers to the cultures they're about to visit. For the people who can't travel (much), an ethnological museum can still offer an important way of getting familiar with other cultures. An ethnological museum also teaches about how our culture relates to other cultures, and how it did so in the past (not always in a good way, something from which we need to learn).

An accesible collection
96% of the museum's collection is stored at a depot in 's-Gravezande. The collection is fully digitized. But that doesn't automatically means easily accesible to the public. Schoonderwoerd spoke about giving priority of making these digital data attractive for the public above complete digitization. Complete digitization won't draw attention to the museum, thus enlarging its support base in society. Providing attractive forms of digital access to the collection will. The museum is also planning on showing objects in certain area's of the museum rooms in a way similar to that in which they are stored in depot. That will make a slightly larger part of the collection visible without costing too much effort. The focus of that area will be quantitative, not esthetical or informative. This makes me think about the depot behind glass I saw at Musée Quai Branly last summer. Schoonderwoerd also wants to have more temporary exhibitions. He hopes to utilize more of the collection's potential.

Conclusion
It all boils down to making yourself, as a museum, relevant to the public and making that relevance widely known. And to make the most of what you have. Spoken like a true economist. A good message. But I did leave with a bit of a bad taste in my mouth. Cutting back on funding isn't such a good thing, when that means that museums not only have to sack people, but can't afford to fill key positions when they open up. Having to do with a little less than before brings out a surge of creativity, I can agree with Schoonderwoerd to that degree. But too much cutting back can be harmful to the collection when there's not enough money ro take proper care of it, and can limit the possibilities of a museum to do things that appeal to a wider audience and that are relevant to society. Cutting a bit, here and there, carefully, giving the museums time to adapt and to find other sources of income, can be a good thing. But the combination of cut-backs and demands in the cultural world over the past years have made the knife into a blunt axe.
This guy is relatively new to the museum world, but it makes me wonder whether there are more people in there thinking like that. Museums shouldn't close their eyes to the negative effects too much cut-backs have on other museums that get a heavier beating, and let those museums take the hits, hoping that this keeps them out of danger. Because trust me, it won't. You might be next. Museums need to close ranks and work together, to make the most of their collections and enlarge their social relevance. Having each other's backs gives them a stronger position battling cut-backs they wouldn't survive. And the more social relevance, the less support for these cut-backs and the more the investment of government funding is worth it.

Geplaatst op 21-11-2013.
Museums Bekijk de 0 reacties! / Check out the 0 comments!
Geef je reactie op dit bericht! / Comment on this post!
---
Scrapbook pages
I have allowed myself very little time for scrapbooking these past few years. When I do spend time in my scrapbookroom, it's usually to work on my version of project life. I always wait with printing the photographs until there's a promotion, so I can never finish a week right after it has ended. Due to that, I have a couple years worth of weeks existing of page protectors with pockets that are part empty, part filled with journaling cards. Each week has a folder with photo's and ephemera that are yet to be put into the empty pockets or used in/on extra inserts for that week. I do get around to my journalling quite often, and I do select photo's and have them printed, and sort the memorabilia and photo's by date. Once in a while I even decorate a journalling card in stead of just writing on it. I just never get around to finishing a week. Hope to make that happen someday soon. Only about 180 weeks to catch up on.
Once in a while, I do find myself some time to scrap:

Photo's from a trip to Ghent. Simple multi-photo-page. The lips are cut out of a photo; it's a couch we saw outside a store.

A page in the guestbook of the nice B&B Pand 4 in Dokkum. We stayed there in May 2012. I had brought some supplies for a travel journal and decided to get a little crafty with drawings, a label sticker and some tape. On the left you see us having drinks, sitting on the bench against the window. On the right you see Maarten reading on the floor next to the book case.

A set of cards, as a birthday present for Rob, who likes to send out a lot of them. I used white folded cards, spray ink, circles of silver coloured cardstock, tape, some bling and stickers. Not too happy about how some of the stickers work with the rest of the card.

A simple page for a birthdaybook Karin's daughter was making her for her birthday. Played with, stamps, ink and embossing powder, punches and coluzzle numbers.

In August I made an art journal cover for the patient magazine (you can see it in my 'In September...' post). I wanted a graph cardstock page with a bit of coloured ink misted onto it. I was playing around with my bottles of mist, trying the get the right effect and the right colour combination for what I had in mind. I only needed one of all these sheets for my cover and spread the rest out on the guest bed, where they lay for a while while I kept adding embellishments to them. I have finished two lay-outs this way (which I'll add to my September-October 2012 album, yay, progress! ;-) ):

Those are not black stars, it's the black from the table top underneeth that you're looking at.
Geplaatst op 19-11-2013.
Scrapbooking Bekijk de 1 reacties! / Check out the 1 comments!
Geef je reactie op dit bericht! / Comment on this post!
---
On the Street - Advertisement
An ice cream parlour in Dokkum with a nice design:
Geplaatst op 06-11-2013.
Inspiration Bekijk de 0 reacties! / Check out the 0 comments!
Geef je reactie op dit bericht! / Comment on this post!
---